St Patrick's Day - A Fresh Day For Food And Business
Mar 12, 2019
Josh

St Patrick's Day on March the 17th has conventionally been about the celebration of Irish cuisine. The story which actually belongs to Ireland many centuries ago has today an overwhelming impact in the restaurant business in the USA, Ireland & Great Britain.
Throughout the years, St Patrick's Day has turned into a commercial celebration promoting Irish heritage and parties throughout the United States and United Kingdom.
Further, this occasion galvanizes the restaurant fraternity to spruce up their Irish menu and draw up a road map for effective promotions. Advertising integrations with different media platforms as also promotions in social media have gained favor in recent times. Add to this the digital menu board with it's glitz and impact and the entire restaurant fraternity go ballistic in wooing the customer.
Truly then, this is consumerism at it's best and provides all categories of restaurants food for thought. Literally . From fancy green decorations and Irish music to food and specialities, this day provides the restaurateur a befitting occasion to enhance his sales and brand image, keeping in mind the huge target audience.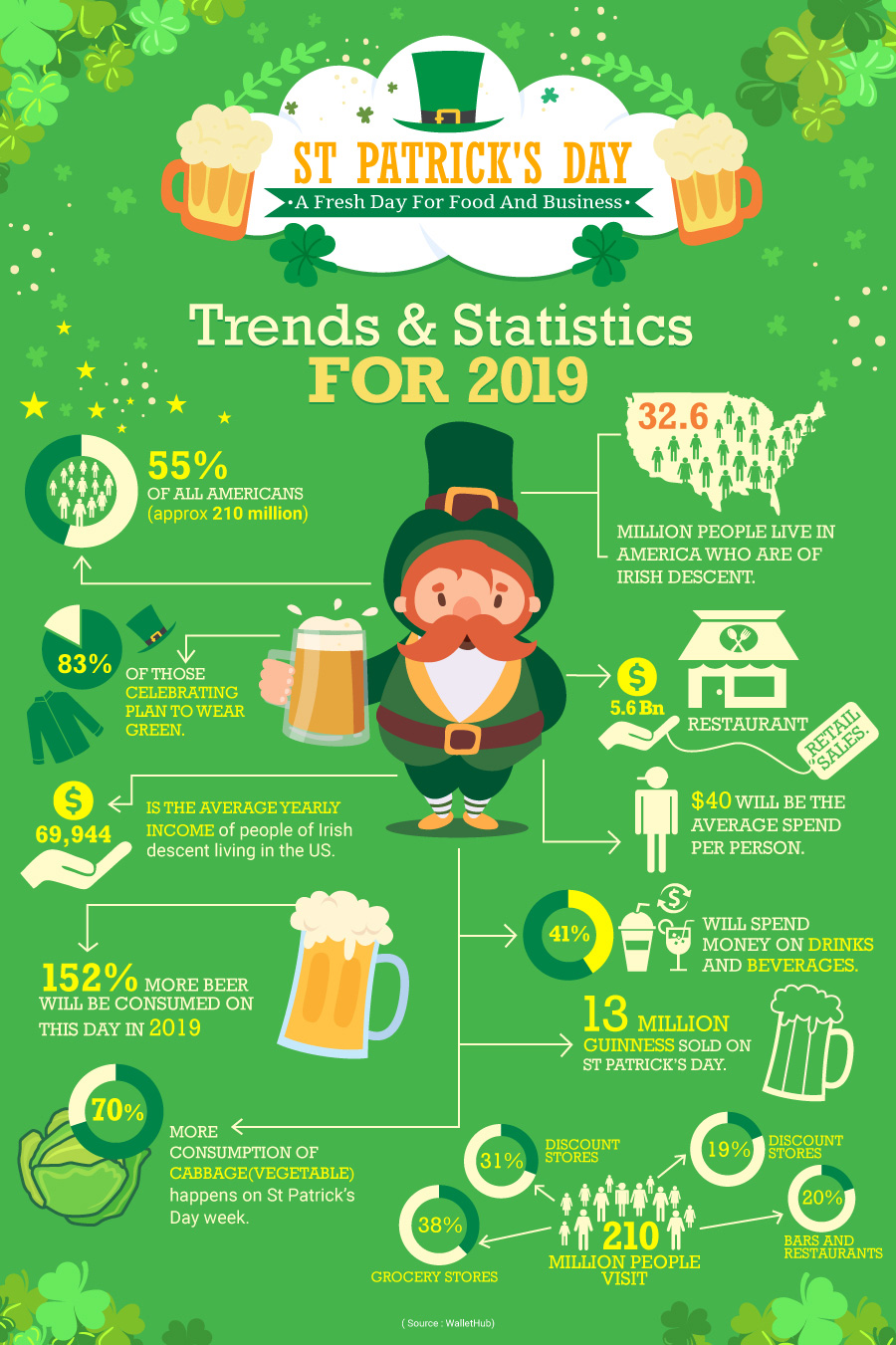 Trends & Statistics For 2019
55% of all Americans (approx 210 million) plan to celebrate St Patrick's Day in 2019.
83% of those celebrating plan to wear green. Possibly in fancy outfits.
32.6 million people live in America who are of Irish descent.
$69,944 is the average yearly income of people of Irish descent living in the US.
$ 5.6 Bn is expected to be spent comprising of restaurant and retail sales.
$ 40 will be the average spend per person.
41% will spend money on drinks and beverages.
13 million Guinness expected to be sold on St Patrick's Day.
152 % more beer will be consumed on this day in 2019
70% more consumption of cabbage (vegetable )happens on St Patrick's Day week.
Of the 210 million people, 38% will visit Grocery stores : 31% to Discount stores : 20% to department Stores : and 19% to Bars and Restaurants.
( Source : WalletHub )
Decorations And Food
Restaurants and fast food chains across the USA get a golden opportunity to adorn and embellish their premises and the interiors. All in Green.
Green tableware on the set tables, green wallpapers illuminating the walls and green banners advertising the St Patrick's Day at the entrance of their restaurant showcasing the occasion.
With an upsurge in customer footfalls the restaurants take this opportunity to build loyal customers and hence offer gift items in Green Hats, Green T shirts, Green beads & amulets,Green costumes, Green tea and many more.
Rightfully taking advantage of the frenzied desire of Americans for fun and merry-making on this day, the restaurants look forward to increasing their sales and growing their business.
The traditional St Patrick's Day food consists of Corned beef & cabbage, along with bangers and mash, potatoes, Irish soda bread, and a whiff of whiskey with chocolate cake for dessert.
In keeping with the tradition famous casual fast restaurants have come up with variations in their menu offering several varieties of the main course and the dessert .
Today, irish cuisine transcends the processed, salty, meaty, often fatty (though very tasty) braises that we Americans associate with St Patrick's Day. Lamb or mutton in lieu of beef has become a substitute to suit the American palate.
Digital Menu Boards And The Irish Menu
Best for Point-of-sale locations,multi-chain restaurants and full service restaurants.
Multi-screen digital menu best for menu display and for effective advertising.
The popularity of Irish menu can be manifested in keeping different price points/offers.
Ensures the best possible design and creativity for your menu board.
Avoid clutter: a picture frame design with a lean and structured menu ideal .
Entertain with videos on the menu : engage customers and present a vibrant ambiance.
Cloud-based program enables promotion of up-sells at real times.
Enables / facilitates updates of menu content for chain locations by a single admin.
Ensures better inventory management : of stocks, sales, fresh item introductions.
Facilitates branding for the restaurant with business/corporate tie-ups and promotions.