Labor Day in the US, which falls on Monday, September the 3rd this year (2018), is essentially the celebration of the working class spirit. This spirit represents the progress of the country over the years with the sweat & toil of the average worker in all sectors of the economy. There's more cause to rejoice. Unemployment rates have fallen as of last year and an estimated average of 158.9 million Americans are expected to celebrate this year ( US Census Bureau ). Likewise, the restaurant fraternity too have geared up to fill up their tables and step-up their bottom lines.
The menu in most full service restaurants will be adorned by the following items : German potato salad, American Lemon beverages, Jamaican Spring grilled chicken, Boston baked beans, American Hotdog and cornbread on a stick, Shashlik kebabs, Turkish potato salad, American cabbage salad, Cedar Planked salmon, Blueberry Pie, and last but not the least, the ubiquitious hamburger.
The Restaurant Fraternity And Labor Day
Let's take a closer look at this equation. While restaurants expect vibrancy on all days irrespective of a festive day, approximately 128.3 million Americans are expected to lunch or dine out this year on Labor Day. Hence, restaurants have work to do !
According to umbel.com Labor Day competes with 4th of July and Memorial Day in terms of Barbeque consumption. Which provides restaurants the oppotunity to boost sales for this category.
Labor Day is also a day for hotdogs, as Labor Day is considered the end of dog season. According to National Hotdog and Sausage Council Americans eat about 7 million hotdogs each year between Memorial day and Labor Day .
Waffles too. The first Waffle House ( a leading breakfast chain ) opened on Labor Day in 1955, in Georgia. Since then, the chain has expanded to 2100 locations in 25 states across the US.
In sync with the celebrations the reputed food chains too make their contributions : Burger King will bring out its special Hot dogs. Firehouse Subs with its exclusive Sub with Coke and french fries add-on.
In the ethnic categories, Spageti Warehouse will come out with its delicious spaghetis and other Italian delicacies. Likewise, Chipotle will display its burritos as well as other Mexican delicacies with special free meal offers for children below 12.
In the dessert category, Dairy Queen and Baskin Robbins will exhibit their specials in Frappes and Polar pizza ice creams respectively.
Americans love to party. And a public holiday such as the Labor Day weekend provides just that mood to go out with family and friends to spend big and have a good time.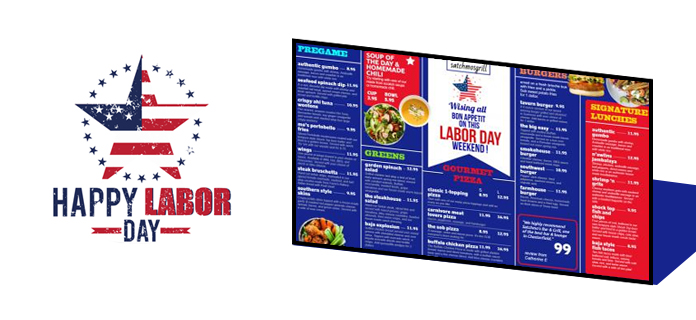 Digital Signage And The Labor Day Menu
Digital signage deployment by restaurants today is more a rule than an exception. It is easy to install along with a host of benefits. Although common place today, the novelty factor remains.
Virtually the entire restaurant fraternity agree that digital signage is the best POS advertising. And Labor Day provides just that much more incentive for advertising their delectable spread with 'Labor Day Specials', 'Best Deals for Labor Day' etc.
QSR's should have a lean menu, with picture frames adorning the items on the menu board. In the evening the bold and glitter would have the desired impact in increasing footfalls ( and sales ! )
The stupendous visual appeal of video and playlist runs on a digital signage menu board would create an impact with the target audience. Menu items are aptly highlighted. And along with it the spirit of the diligent and conscientious working class.
Branding and positioning is the order of the day. The more effectively a restaurant can brand itself and its items the better it will be able to attract the working clsss who will be in the mood to splurge on this day.
Clever advertising is what's needed by restaurants. To attract the target audience and keep up the sales at the same time. Examples would be : 'Get a free dessert on any entree order', 'the first 50 customers get 20% off', 'Get a 3-course meal with $20 only' 'Do purchases of $30 at Happy Hours and get $5 off', 'Give your kids a free meal on this Labor Day weekend'.
Digital signage enables item up-sells at real times on the Labor Day weekend with automated menu updates. Also, stocks and inventory can be better coordinated as business peaks at some time during the day ( or evening ).