This Thanksgiving Cook-up a Menu with Keyboards in Digital Signage!
Nov 16, 2016
DSMenu
It is that time of the year again!! Following the century old tradition, every November, Thanksgiving Day sets off the holiday season to bring in family gatherings, foods and fun for millions of people across US and Canada. To live up to this festive spirit, people also prefer eating out leading to full-house for restaurants.
And if you are anyway involved in the restaurant business this is the time and opportunity to roll-out the best spread from your kitchen, apart from the traditional Turkey, stuffing and vegetables.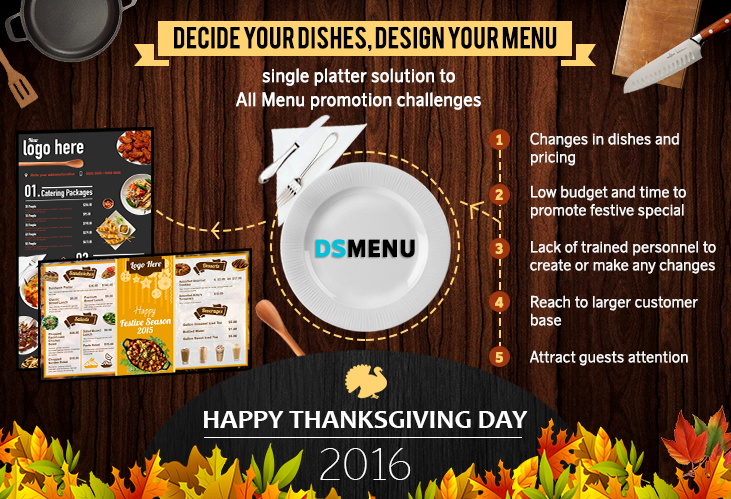 Now, how to present this innovation in menu to the guests? platter?
Digital Signage Menuboards are the perfect solution to your journey right from preparation in kitchen to promotion of menu outside.
Invest in Innovating Items in Menu but Cut Cost to Update the Menu: Festive occasions like Thanksgiving dinner are the time to rustle up something new, offer 'Daily Special' and treat your customers to 'New Additions' to your Menu.
And with Digital Signage menuboards, printing a new menu or hiring a graphics designer to update each change is history. With DSMenu, all you will need is a TV and Pendrive. Make the required changes in your computer and laptop and see them appear on the Digital Signage screen.
Spend Time in Platter Presentation and Not Menu Promotion: With Digital Signage Menuboards it is now just a "5 minutes job" to change the price and show updated menuboards to the customers. Choose from unlimited templates and put beautiful pictures, logos, menu items to suit your need and upload. Done!! All these can be done with little training by even your employees.
Enjoy Menu Upselling without Selling Out Time and Money: Upselling is one thing that can?t be decide beforehand. Imagine building those combo packs in just 2 minutes and show them on the digital display for the customers to order. Combo packs are always interesting to the customers.
Stay Local but Go Global: 360 deg. Promotion of restaurant menus is now possible with cloud based menuboard design Apps. Your menus can reach to your thousands of customers in the easiest way. The menuboards can be mailed to the customers or they can be uploaded to facebook, instagram, twitter etc. to update the customers on the latest menus OR today's special.
So this Thanksgiving season be in complete control of not only your kitchen but also the promotions with just few clicks and taps on your keyboard.
'Happy Thanksgiving'