Write your own Fairy-Tale Menu with Digital Signboard
Dec 14, 2016
If you have arrived on this page and reading this article it is assumed that you are a digitally familiar and internet-savvy individual; a professional perhaps with some interest or connection to the food industry to be, precise. In short, a grown-up individual.
But come December, no matter how worldly-wise we have become the spirit of Christmas rides over our imagination. The colorful lights, delightful decor, tunes of carols spread such love and warmth in the cold winter air that we tend to believe the splendor and magic of every fairy tale we have listened to as a child. The legend of Santa Claus and his bag of goodies creates a magical spell on all of us.
Magic it is indeed!! Every fairy tale - Rapunzel, Beauty and the Beast, The Little Mermaid, Cindrella, Snow White- has a magical power in some form that brings in amazing transformations.
So this Christmas, how about YOU be empowered with such magical powers to transform your restaurant business!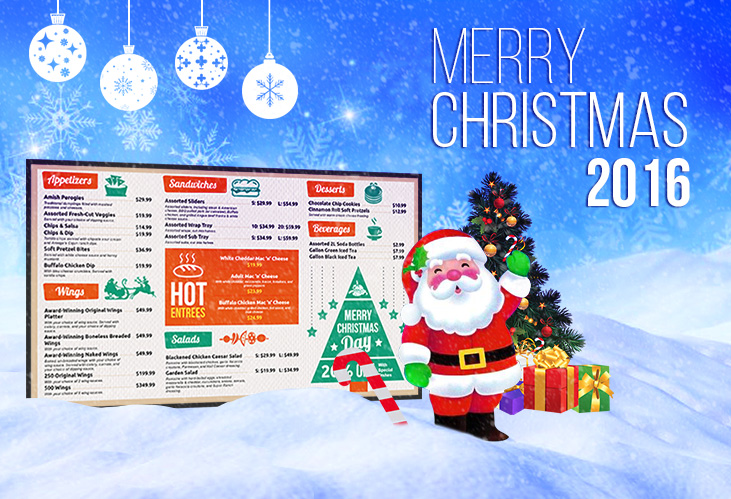 And your magical SPELL is Digital Menu Signboards.
Only instead of wielding a wand or sprinkling stardust, all you have to do is hit your fingers on a keyboard!!
With digital signage Menuboard installed in your laptop/computer, all you will need is a TV and Pendrive. Make the required changes in your computer and laptop and see them appear on the Digital Signage screen.
Create an innovative menu that can be as long as Rapunzel's hair but you won't need such winding menu card to present it to your guests and patrons. With Digital Signage Menuboards is that magical transformation tool for you. All you need is just 5 minutes to make changes in the price and show updated Menuboards to the customers.
Following Signing up with Digital Signage Menuboards you get access to unlimited templates. All you need to do is put beautiful pictures, logos, menu items to suit your need and upload. Create your own Wonderland menu like Alice, just like that!
Like the Magic Mirror of Snow White, the Digital Menu Sign Board displays every last minute change you want to make. It works wonder for any upselling plan you have by deciding on a last minute combo plan.
And if Aladdin had a magic carpet to roam around the world, so can you, but digitally. With cloud based menuboard design Apps you can spread the word about updates and additions in menus to your customers through mail or they can be uploaded to facebook, instagram, twitter etc.
So Digital Signage Menuboards
empowers with complete control over your menu creation and display
saves time and money by avoiding any dependency on third party for design and display
generates revenue with maximizing on? opportunities like upselling, festive special offers etc.