As the fiercely competive restaurant business grows more intense by the day, the fervour for digital signage menu boards are gaining rapid momentum. In the process, restaurateurs worldwide face fresh challenges in designing the menu boards for greater impact in enticing the customer. The more effective the impact, the greater are the chances of customer footfalls, with the resultant increase in sales and revenues. Keeping these factors in mind, Picture Frame Menu Boards are being designed by many Quick Service Restaurants with amazing elegance, sophistication and finesse.
Broad Objectives For Designing Picture Frame Menu Boards
Better impact on showcasing specific menu items or an ensemble of items
To do away with clutter and congestion of menu items
To highlight special price offers, discounts, up-sells, cross-sells & combinations
To attract and entice customers quicker & faster
To move ahead of competitors in menu board creativity & designing
To enhance sales & revenues of the business quickly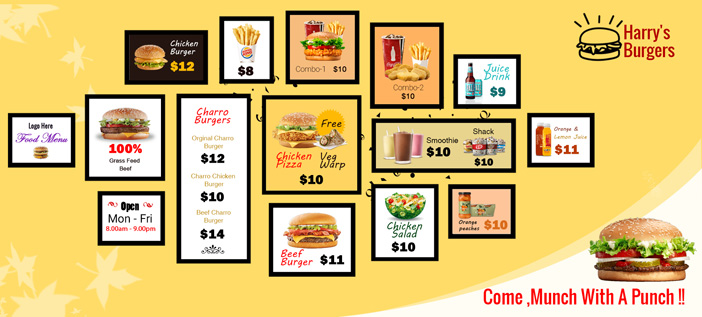 Advantages and Benefits of Picture Frame Menus
Highlights the menu items more prominently. The select items or a list of items are placed in a square or a rectangular enclosure on the menu board.
On a chalkboard menu for instance, content and graphics can also be showcased in a square or a rectangular enclosure. Attractive fonts and colors can be used to depict the items.
Gives the menu board a classy, elegant & sophisticated feel. All restaurants aspire to showcase their best designs on their menu in order to attract their target audience. And more.
Placed on a digital screen the picture frame menu will have an unmatched visual appeal & impact. In fact, this is precisely what digital signage menu boards such as the LED / LCD screens wish to embrace.
Facilitates better & more effective customer engagement. The square & rectangular enclosers as in a picture frame enables customers to see the menu more clearly before making their choices.
Easier & simpler for customers to make their food choices. For instance, several burger variants could be enclosed and showcased in a rectangular frame, and one particular special offer burger could be showcased in a smaller square enclosure, with related content & graphics in order to draw the attention of certain customers.
Decreases perceived waiting time for customers in-store. Important for office goers and lunch time cuisine hunters, who have very little time at hand for a bite. Customers can see the picture frame items as soon as they enter and give their orders quickly. Accordingly, the waiters and staff can serve the customers better and quicker.
Potential for attracting an upmarket target audience. The compelling visual appeal on the picture frame items and the elegance of the menu board in general, would infer good quality of the menu and the ambiance, which in-turn would attract customers with heavier wallets.
Enables the business to offer flexible prices , even for variants of the same item. For instance, if five variants of a burger are showcased, each within a picture frame, with different combo packages and price points the customers can choose from the selection of up-sells.
Enables branding of menu items along with product differentiation & positioning. The best restaurants name their menu items ie, Chiro's Burger, or a Donato's pizza, or a Gruber's Hot Dog and make it the best in quality which customers can recall and even recommend to their family & friends.
Business can leverage on digital software initiatives. The Cloud based program wherein a chain of stores can be managed by a single admin along with their picture frame menus.
Provides easier synchronization with computer remote control operations. Another digital software incentive whereby only a computer remote is required to update, edit or alter a picture frame menu board.
Future Trends
Given recent trends, while the effervescent passion for digital signage deployment across all types of restaurants are gaining momentum, Picture Frame menu boards are expected to play a greater role in it's designing and creativity.
Here are some key pointers :-
Leaner & better Structured menu boards gaining acceptance. More and more Quick Service Restaurants are beginning to realise the complexities of logistics and inventory management with a large number of menu items, and are striving for the best fit within the Menu items-Costs-Revenues equation. Which would mean re-designing their menu boards, with picture frame menus being the dominant choice.
LED / LCD and Plasma screens will compliment more effectively with picture frame menus. Technological advancement in the digital space, with the objective of offering the best viewing pleasure for the customer, will see a more enhanced picture quality of the screens and menu boards, with warranties on durability and cost-effectiveness.
Larger and more reputed restaurant chains with the likes of McDonalds & KFC are already deploying multiple digital signage menu boards in-store . This trend will gain more momentum in the years to come, with picture frame menus showcasing the item/s with suitable content and graphics.
Smaller & medium sized restaurants will cut down on their advertising budgets and depend more heavily on digital menu boards at the points-of sale. They may choose to deploy smaller screens or menu boards but it is certain that they would do their best in designing them. And a Picture Frame menu board would be a strong creative possibility.
Digital signage Standies are gaining in popularity, particularly in Europe. In essence, items within a Picture Frame, which form a part of a larger menu board, would be showcased on a square or a rectangular Standy. Quick Service restaurants are already deploying them at the entrance of the restaurant with advertisements of specific meal menus such as Breakfast menu, Brunch menu, Lunch menu, Dinner menu and more.
Interactive menu boards & Self-Service or Ordering Kiosks are already in vogue in several reputed restaurants. Items within a picture frame on these menu boards are likely to be selected first by the customer. With in-built mechanisms for customer profiling, restaurateurs would get better insights into customer tastes & preferences which would enable them to innovate on their menu.