St Patrick's Day on March the 17th has conventionally been about the celebration of Irish cuisine. The story which actually belongs to Ireland many centuries ago has today an overwhelming impact in the restaurant business in the USA, Ireland & Great Britain.
When we elucidate on this subject with particular focus on the USA, we see that 39% of Americans ( consisting of both Irish and non-Irish descent ), which comprises of 122 million people, participate in the consumption proceedings on St Patrick's Day.
Truly this is consumerism at it's best. And this data provides all categories of restaurants food for thought. Literally ! As a case in point therefore, let us discern the restaurant trade's thoughts on this occasion. Here are a few pointers :-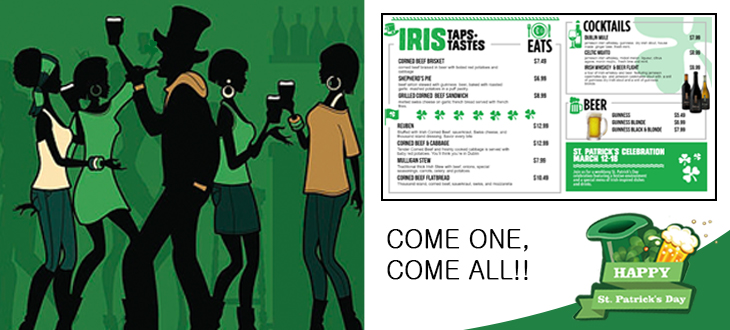 Decoration :-
St Patrick's Day signifies the Green revolution
Restaurants and fast food chains across the USA get a golden opportunity to adorn and embellish their premises and the interiors. All in Green.
Green tableware on the set tables, green wallpapers illuminating the walls and green banners advertising the St Patrick?s Day at the entrance of their restaurant showcasing the occasion.?
With an upsurge in customer footfalls the restaurants take this opportunity to build loyal customers and hence offer gift items in Green Hats, Green T shirts, Green beads & amulets,Green costumes, Green tea and many more.?
Rightfully taking advantage of the frenzied desire of Americans for fun and merry-making on this day, the restaurants look forward to increasing their sales and growing their business.
Food :-
The traditional St Patrick's Day food consists of Corned beef & cabbage, along with bangers and mash, potatoes, Irish soda bread, and a whiff of whiskey with chocolate cake for dessert.
In keeping with the tradition famous casual fast restaurants have come up with variations in their menu offering several varieties of the main course and the dessert .
Today, Irish cuisine transcends the processed, salty, meaty, often fatty (though admittedly tasty) braises that we Americans associate with St. Patrick's Day. Lamb or mutton in lieu of beef has become a substitute to suit the American palate.
The Irish kitchen we've now become familiar with marries the new and the traditional - it takes advantage of fresh ingredients and incorporates international flavors without giving up the homey, hearty comfort that's utterly Ireland.
This occasion facilitates all quick service restaurants to innovate on their menu ? not neccessarily on Irish cuisine. It can showcase any recipe which it thinks best for the day, and which will make a positive impact on their profits. You could do the same too !
McDonald's for instance, has introduced the Shanrock Shake - a special drink : Bruxie has come up with "Get lucky" fried chicken: Tim Hotons' mintchip timbit - a candy : Mc Alisters' with fine green tea : Baskin Robbins?with it's very special ice cream: Dunkin Donuts' Shamrock Sprinkle' Donuts : Philly Pretzel factory's? with it's reputed Pretzels: Qdoba - a Mexican restaurant green tabasco flavoured quesco : Burger King with a uniquely prepared St Patrick's burger served with it's repertoire menu - the list is endless
Digital Signage technology and the St Patrick's Day food menu
The new millenuim ushered in advancement in digital signage software technology so very relevant for all types of restaurants and particularly for this day of St Patrick's Day food menu.
The following pointers could serve as a valuable guide to your business :-
A Digital signage menu board will have a compelling impact on your target audience. The effective visual appeal will be an ideal platform to convey your marketing message .
Digital signage software enables you to update and modify your menu content for all the real-times of the day. For instance, if you wish to serve a variation in beef / lamb menu ( the main course ) items thrice a day- ie, at 12noon,3pm and 8pm along with the corressponding desserts the digital software can display the graphics and content specifically at those times - or in advance.
Digital signage software will facilitate better customer engagement ? and they all will be in a merry mood on this day.
With better monitoring of the real-time up-sells, digital software also facilitates more effective coordination of your inventories and stocks. This will no doubt be a busier day for you !
Statistics
Let us now delve and take a bird?s eye view on the statistics. Researcher Wallet Hub estimates that in 2018, out of the 60% adult populace within the ages 18-44 , 83% will wear green, 31% will have a special dinner, and 27% will have or visit a party at a bar or a restaurant. The study also indicates that this year the consumption of this day?s special cuisines would cross $ 5.9 million - the highest so far in it's history.
Further, the following are the sectorial consumptions of the average American adult on St Patrick's Day :
$46

Average - Adult American Spends on
St. Patrick's Day
51 %
Food
41 %
Beverages
31 %
Apparel
26 %
Decorations
16%
Candy
Source : Wallet Hub Research
Hence, we see that St Patrick's Day is much more than just a day. It contributes significantly to the restaurant business and the American economy.
We wish all a very happy & prosperous St Patrick's Day !