Life without Mexican food is like no food at all !, exclaims an avid American foodie. And his words are echoed by millions of other foodies across the US.
If the above remark is of a zestful epicurean, one has only to glance at the amazing Mexican cuisine landscape. The ubiquitous Tacos, the delicious Nachos,the succulent Burritos, the scrumptious Tostadas, the delectable Fajitas and the spicy Enchiladas have all re-defined snacking and dining in the US.
Most of the Mexican cuisine revolves around the tortilla. The tortilla is a flat bread made out of wheat flour or corn. The tortilla can be made soft and tender, as well as crispy and crunchy ( like chips ). The various meats as in chicken, beef, pork, fish, shrimps,as well as cheese and vegetables are the fillers which are served wrapped in the tortillas, examples of which are the Tacos, Burritos,Tostadas, Quesadillas and Enchiladas. These are further garnished by sour cream , salsa ( a type of tomato sauce) and mayonnaise.
Current Statistics of Mexican Cuisine In The US
Mexican cuisine in the the US, in terms of popularity , ranks among the top three ethnic cuisines. This coincides with the growth of the Hispanic population in the US in recent years. ( approx 15 % of the population currently )
IBIS World states that Mexican style food has become a mainstream constituent of the American diet.
Current spends in Mexican cuisine in the US stands at $45 billion.
The Simmons National Consumer Survey states that in 2017, 233.28 million Americans used Mexican food and ingredients, which is increasing by 2.8% every year.
CHD Expert research reveals that as on 2017, there are 59,800 Mexican restaurants across US, comprising of all categories of restaurants ie, Fine Dining, Casual Dining, Quick Service, and Take-aways.
The Different Varieties of Traditional Tacos
Tacos is presumably the most popular of the Mexican cuisine in the US ( served by both Quick Service as well as Full Service restaurants ), and hence perhaps deserves a little more mention on its iconic varieties : -
Tacos al pastor : made up with thin pork steaks, seasoned with adobo seasoning, then skewered and overlapped on one another on a vertical rotisserie.
Tacos de asador : or grilled tacos : when grilled until crisp it is filled with sausages. Sandwiched tacos are also prepared by grilling, and meats, cheese and vegetables can be placed inside the tortillas to make it succulent.
Tacos de camerons : in which grilled fried shrimps are used, usually with the same accompaniments as fish tacos, garnished with vegetables and mayonnaise ( or sour cream ).
Tacos de cazo : for which a metal bowl filled with lard is typically used as a deep-fryer. Meats for this type of tacos consists of pork and beef .
Tacos de lengua : these are cooked in water with onions , garlic and bay leaves for several hours, and when soft and tender, sliced and sauteed in a small amount of oil.
Tacos de pescado : consists of grilled or fried fish, with lettuce or cabbage, and a sour cream or mayonnaise sauce, all of which are placed inside the tortilla. This tacos remain most popular in California, Colorado, and Washington.
Tacos dorados : these are fried tacos : in which tortillas are filled with pre-cooked chicken, beef or barbacoa, rolled into an elongated cylinder and deep fried until crisp. They can also be cooked in a microwave or broiled.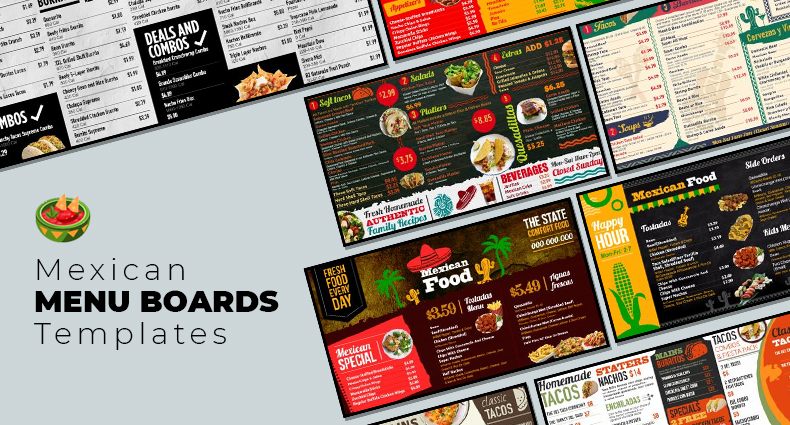 Mexican Cuisine And The Digital Signage Menu Board
For Mexican cuisine,the digital signage menu board is currently the best advertising platform for point-of-sale locations in US. Since creativity in digital menu boards presents a novelty, Mexican restaurants are innovating in their menus and advertising the same with better impact.
Digital signage assists in product differentiation on the Mexican menu with many restaurateurs making and serving several varieties of Tacos to maximize margins, and to keep competitors at bay.
Enables branding of Tacos, Burritos, Enchiladas and other items based on the name of the restaurant , and advertising the same on the digital menu board is being practiced by many restaurants for inducing customer loyalty.
The digital menu board enables instant updating and customization of menu items at real times. For instance, if the stock of Tacos is expected to be depleted at 3pm, the restaurateur can advertise and customize its Burritos, Toatados or Enchiladas ( add-ons with a coke or a salad ) at 2.30 pm, half an hour in advance .
The digital menu board also enables the restaurateur to promote its up-sells for the day. For instance, if the restaurateur wishes to promote its Burritos ( plus a coke ) at an attractive price point for lunch, it can advertise this on the menu board from 12 noon onwards. The customers connect to this offer instantly.
The digital menu boards facilitate customer engagement more effectively. The restaurant can give a live demo on the making of a Taco or a Burrito, and provide meat, vegetable and sauce options to the customers to boost sales.
Digital software has enabled restaurateurs the 'cloud based program' whereby, menu content can be updated anytime, and from anywhere. Thus, a restaurateur wishing to serve one set of items in the morning and another set in the afternoon or evening can do so remotely, without even being present in the restaurant.